Multicores & Signal Distribution
DSPRO EtherFace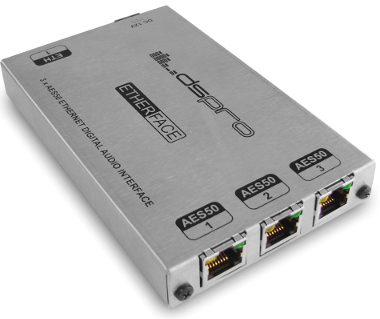 Downloads
The EtherFace digital audio interface series has been designed to enable high-channel-count and low latency interconnection of MADI and AES50 devices to a computer.
Because EtherFace uses Ethernet to connect to the computer, it allows multiple Macs/PCs to share the same audio interface. This enables applications such as redundant recording and playback/recording from separate computers.
Besides live recording and virtual soundchecks, the ultra-low latency of Etherface drivers (2ms round-trip) allows you to use your favorite software DSP engine for real-time plugin insertion.
Due to its reduced dimensions EtherFace is portable, giving you the flexibility to install it anywhere you need, from a small venue or studio to a location recording truck.
The AES50 interface has three ports and can handle up to 72 channels at 96kHz in both directions at the same time.
To hire call 0118 969 0900