Network Fundamentals
Network Fundamentals is a one day course, taught by SFL Academy's training team. The course aims to take participants from a basic level of network knowledge, and expose them to a broad cross-section of knowledge around the design and configuration of networks.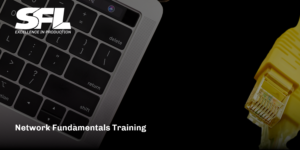 The course is taught by AV industry professionals, and many of the examples on the course will be in this context. However, the course will cover general IT networking as well, and the knowledge gained will be useful in both contexts.
The course covers:
OSI Layer Model and 802.xx Standards
Physical network infrastructure
Network Switches – Selection, Usage and Configuration
IP Addresses, Subnet Masks, and schemes of IP Addressing in a network
VLANs, WLANs, and Routers
Wi-Fi standards and best practice
Network Services – DHCP, DNS, NAT, IGMP, QoS etc
Practical configuration and implementation of network designs
A basic level of knowledge around networking is desired, although beginners have successfully completed the course before. It's not required to bring a laptop, though participants may find this helpful for note-taking and reference.
FAQs
What is the refund/cancellation policy?
Spaces on all of our courses are strictly limited and we put considerable resource into running the course based upon your booking. For this reason we do not accept cancellations and no refund will be offered if you are unable to attend, however you may nominate another named individual to attend in your place.
Cancellations due to extenuating circumstances may be considered for deferral to a future course at SFL's discretion. SFL's decision in such matters is final, previous decisions do not establish a precedent. In the unlikely event that SFL have to cancel or reschedule a course and you are unable to make the new dates a full refund will be provided.
Where can I contact the organiser with any questions?
Please contact [email protected] or call our office on 0118 969 0900 (9am-5.30pm Mon-Fri) for any questions relating to this course or your booking.
What is the address for the course?
SFL Group, Unit 5, Headley Park 10, Woodley, Reading, RG5 4SW
Is there parking?
Free parking is available in the vicinity of all locations.
Is lunch provided?
A light lunch is included – please let us know of any dietary requirements. Refreshments including tea and coffee will be available throughout the day. We are also a short drive from local amenities.
How to book
Click on the date below to book!
Dates  
Cost  £50 per person (inc. VAT)